Welcome to the Fern Prairie Modelers!
Our field officially closed on February 8, 2021. If you have ideas for a new flying site please contact the club at fpmfieldsearch@gmail.com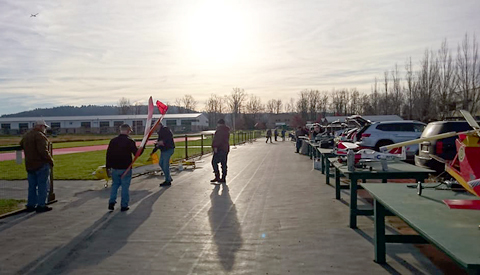 Fern Prairie Modelers (FPM) is a model airplane club chartered by the internationally recognized national modeling organization, the Academy of Model Aeronautics (AMA). The club is open to anyone with an interest in model aviation.
The club was founded around 1981 with a loose association of five charter members flying at a site that is now Grove Field in Camas. By February 1982, the membership had doubled and within a year became an AMA chartered club with 19 members. Currently, the club has over 100 members.
Visitors are always welcome at the general membership meeting held on the third Thursday of each month at 7:00 PM. The meetings are held at the Camas Community Center at 1718 SE 7th, Camas, Washington.
Our previous model flying site was leased from the Port of Camas-Washougal. All site improvements and facilities were installed by club members and we took great pride in maintaining and operating one of the best flying sites in the greater Portland metropolitan area.
Most of our members are interested in radio controlled sport model airplanes, however, there are also members interested in other areas of model aviation. These include scale models, gliders, helicopters, pylon racers, control line and free flight modeling.